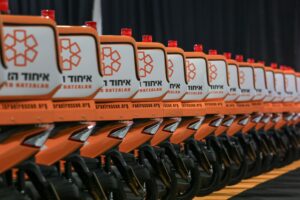 The United Hatzalah EMS of Israel and the Art of Motorcycle Maintenance 
A Story of Courage and Devotion to Saving Lives and the Role Played by One Dedicated Super Mechanic
© Heebs on Hogs™ 2020 (Summer - Fall Edition)
by Raphael Poch, International Media Director of the United Hatzalah of Israel
Publisher's Note: All photos in this article are courtesy of United Hatzalah of Israel
Everyone is aware of the constant danger that Israel faces from its enemies, especially from those enemies who would attack or kill themselves in suicide missions in order to murder innocent Israeli civilians. This threat to life has been real and ongoing even before the founding of the modern State of Israel on May 14, 1948. Because of this constant threat to life, the need for emergency medical responses has always been a priority. And when you add to that the additional daily life events in a vibrant country of over 9.2 million people where medical emergencies occur and require immediate attention, it's obvious that the necessity to maintain a medical vigilance through advanced equipment and top rated medical responses by trained first responders is a priority for the country.
United Hatzalah of Israel (Hatzalah – הַצָּלָה, a Hebrew word meaning "rescue" or "relief") was one of the organizations that was created and dedicated to help fill the medical needs of the citizens of Israel. It is the second largest EMS (Emergency Medical Service) organization and the largest all-volunteer organization in Israel today. It has an impressive average response time throughout the country of less than three minutes, and in major Israeli cities, less than one and a half minutes (that's an incredible 90 seconds!). The two major elements that help the organization maintain its record national response time are a widespread network of fully trained volunteer EMTs (Emergency Medical Technicians), paramedics and doctors who act as first responders, which includes a fleet of close to 1,000 motorcycles. These specially equipped motorcycles, called ambucycles, are equipped to carry all of the emergency medical equipment that is found in an ambulance with the exception of a backboard, bed, and stretcher.
Incidentally, if the name Hatzalah sounds familiar, there are many Hatzalah volunteer medical emergency groups in many cities throughout the world that are independently organized and run by local volunteer first responders. These dedicated volunteers serve both the Jewish and non-Jewish populations within their communities in cooperation with the local authorities. More information on various Hatzalah groups can be read by going to: https://en.wikipedia.org/wiki/Hatzalah. This article however, is focused on the United Hatzalah of Israel and their ambucycles.
Maintaining a fleet of 1,000 ambucycles for the entire country of Israel is no small feat. The organization, which is funded entirely by donations from donors throughout the world, maintains a network of more than 6,000 volunteers and distributes ambucycles to those volunteers who respond to the most emergencies, and in areas where they are most needed. 
The ambucycles are uniquely designed for quick access and cutting through traffic jams that result from congestion or traffic accidents, and are strategically placed in areas that have a high call volume and have a need for fast emergency medical responses.
Volunteers are expected to respond at any time of day or night and are always on call. Those who have been assigned an ambucycle, keep their ambucycles and use them as their primary vehicles, which includes taking them to work or on errands. 
United Hatzalah covers the cost of the ambucycle, the medical gear (which often needs replenishing) and the insurance as well as physical upkeep of the vehicle. The volunteers pay for their own gas and are required to respond to a minimum number of emergencies per month with their vehicle. 
Enter the Master Mechanic
As goes the way of all motorcycles, even with the expert upkeep of a master mechanic, mechanical and maintenance issues do come up, and sometimes when least expected. When an ambucycle breaks down or needs some minor tune-ups that result from normal wear-and-tear or minor accidents, the organization calls upon one person to fix it. This "on the spot" master mechanic is Yossi Yampel.  Yossi is not your average stationary mechanic with one maintenance location. Yossi spends much of his time traveling the length and breadth of Israel fixing emergency response motorcycles, and in addition to this more than a full time position, he is also a volunteer EMT himself.  
During this interview, Yossi explained how he manages to maintain a work ethic around the clock 24/6 (Yossi is usually home on the Jewish Sabbath) even when it means that he is often away from his family for the majority of his day and throughout the week. "I always try to put myself in the shoes of the ambucycle driver. If I were the one whose vehicle needed repairs or was broken down on the side of the road, how would I react? Would I want help as quickly and professionally as possible? Of course I would. Therefore, that is what I aim to deliver to all of the ambucyclists across the country." 
Yossi is no stranger to waking up in the middle of the night and traveling halfway across the country to help a driver who got stuck with his vehicle on the side of the road. Rain or shine, Yossi shows up time and again and helps a stranded driver. 
"The volunteers give of themselves day and night to save the lives of other people, so I give of myself in order to help them when they get stranded," he said. "I do it with joy and love for my fellow man and fellow first responder." 
One Day (of many) in the Life of a Dedicated Mechanic
There are thousands of stories throughout Israel of the dedicated men and women who are so critical to the smooth functioning of this incredible all volunteer life-saving organization. Here are just a few stories about one of the many heroes, master mechanic Yossi Yampel.
One recent evening just after 10:00 p.m., Danny Ben David, a volunteer EMT and ambucycle driver was stranded on the side of Highway 443, which connects Israel's capital city of Jerusalem with the coastal area. Danny's back tire was punctured on the highway and it could not be fixed by the regular tire inflator aerosol spray carried by all ambucyclists. "My tire was partially shredded (heavily damaged)," recounted Danny. "Yossi was just leaving Jerusalem to head home for the night when I contacted him and let him know that I had the puncture. He immediately switched directions, even taking a different highway in order to rush over to my location. He made a temporary fix to the tire and drove behind me to make sure everything was okay. A few kilometers down the road the tire gave out again. The hole was just too big. We again stopped on the side of the road. This story repeated itself a number of times until we arrived at the Beit Shemen junction further down the highway. I needed to turn right and Yossi needed to go straight. Since my tire now seemed to be holding up, I motioned to Yossi that everything was alright and exited to Highway 444. Never being one to leave a job half-done, Yossi followed me onto the highway. He drove behind me for the next 45 minutes until I was at my house. An already long day turned into an even longer night with an additional ride of 2 hours in the wrong direction for Yossi just so he would make sure that my tire held until I got home. This is the kind of man that Yossi is. His dedication knows no bounds."
Danny's story is not out of the ordinary for Yossi. On the contrary, this is the type of service that this dedicated, master mechanic gives to all of the ambucyclists under his charge. Another volunteer ambucycle driver, Aviad Hertz, spoke about how Yossi helped him out of a jam just before he, Aviad, saved a person's life. 
"My ambucycle broke down and I needed to get it fixed. It wasn't something that required me to take it back to the garage, so the organization sent Yossi to meet me," Aviad explained. "It was early in the morning when Yossi arrived to do his magic. He tweaked the engine, and spent about an hour working on the bike. He finished in record time before I needed to leave for work, which was mind boggling to me. He got me on the road and on my way in time for me to make it to my morning meeting. Shortly after I began my drive, I received an emergency alert that I was one of the closest first responders to a person who had lost consciousness. The roads were jammed and there was no place for a car or ambulance to pass. Fortunately, my "just a short while ago", recently "rejuvenated" ambucycle was able to slip through the stalled traffic and I arrived at the location of the patient in less than two minutes." 
"Upon arrival, I immediately attached my defibrillator, which is a standard piece of equipment carried by all ambucyclists. It delivered a shock to the patient's heart. His pulse returned and by the time the ambulance arrived, he had begun breathing once again. The man woke up in the hospital and is still alive today. Thanks to my working ambucycle, I was able to cut through the traffic and use walking paths that cars cannot fit on in order to arrive in the shortest time possible." Aviad added, "it was Yossi's work that made it happen. If I hadn't had my ambucycle working that day, this man may not have made it."
There are many dedicated, hardworking volunteers who are all significant to the life-saving and seamless operation of United Hatzalah. Zeev Sofer is the man who built the motor vehicle division of United Hatzalah. The division is responsible for the upkeep of the fleet of ambucycles as well as all of the other vehicles the organization utilizes such as ambulances, fly cars* (see the technical information below for an explanation), two boats, 27 ATVs, electric bicycles, smart cars, and other transports. Zeev spoke of Yossi's important work in maintaining the vehicles and helping to keep the volunteers on the road and saving lives.
"Our vehicles are often the first tools the volunteers need to save a life. The first element in the response cycle for any volunteer is communication. The volunteer has to get notified that an emergency is occurring nearby. The second element is transportation. The volunteer has to arrive at the scene and get there as fast as possible. Without the ability to do that, they cannot provide the help needed to the patient, no matter how good their training or equipment is. The work that Yossi does is invaluable in providing the organizations' quality life-saving help for the patient." 
Sofer added that a person like Yossi working within the organization, saves lots of money as his expert mechanical skills and dedication to the cause of our first responders prevents a myriad of visits to an outside mechanic. "When you have a fleet this size, it becomes extremely prohibitive to send every vehicle to the garage for minor damage and tune-ups. It isn't that we shouldn't fix these problems; we must and that is why we have Yossi as part of our team, to keep the ambucycles and their drivers on the roads as much as possible. While each ambucyclist is responsible for the basic upkeep of his vehicle, Yossi is there for the more complicated problems as well as roadside emergencies. He is an instrumental part of what keeps this organization going and his work has saved many lives." 
We are happy to bring you just a small introduction regarding the incredible work of United Hatzalah of Israel and to mention their dedicated master mechanic, Yossi Yampel.
And for Yossi, just like his fellow volunteers, it's just another day doing what they all are devoted to, and love to do, saving lives throughout Israel.
Publisher's Postscript: Anyone who would like to read more about this incredible all volunteer organization of life saving first responders and their special organization in Israel, or might even want to consider making a donation, can click onto the following link to the United Hatzalah website: https://israelrescue.org.
Technical Information
* For those who are curious, Fly Cars are cars that the organization has which possess lights and sirens. They are officially registered as emergency vehicles, and used mainly by staff members, who are also EMTs for operations undertaking by he organization. Similarly to the ambucycles, these staff/volunteers keep these cars with them at all times in case they are needed for an emergency.
Ambucycles come in various models and sizes. The majority of the ambucycles of the United Hatzalah of Israel include the Joymax 250, Joymax 300, Sun Yeung Maxsym 400 and 600, Honda 300, X-Evo 250, Downtown 300 and 350 and the Piaggio MP3. More detailed specs on these vehicles can be found at the manufacturers websites.
(From Wikipedia.com)
If you'd like to share a motorcycle related story or have any suggestions, please let us know!